The best way to get to know a city is through its food and Cusco is hustling and bustling with options. The cost of living (and eating) eating in Peru is relatively inexpensive, so finding a cheap yet yummy meal in Cusco should be easy to find. The tourist city is full of great (and not so great) restaurants, so here's a few recommendations to help you out in your quest for delicious and wallet-friendly food in Cusco:
Cusco Street Food and Markets
San Pedro Market
Whether I'm at home or in another country, farmers markets are the place to spend a weekend morning. San Pedro Market is a sensory overload – colourful, loud and stinky. Head to San Pedro Market for unique varieties of corn and potatoes, huge loaves of chutas (round, sweet bread), exotic fruits like chirimoya (custard apple) and pepino dulce (sweet cucumber), and questionable alpaca souvenirs.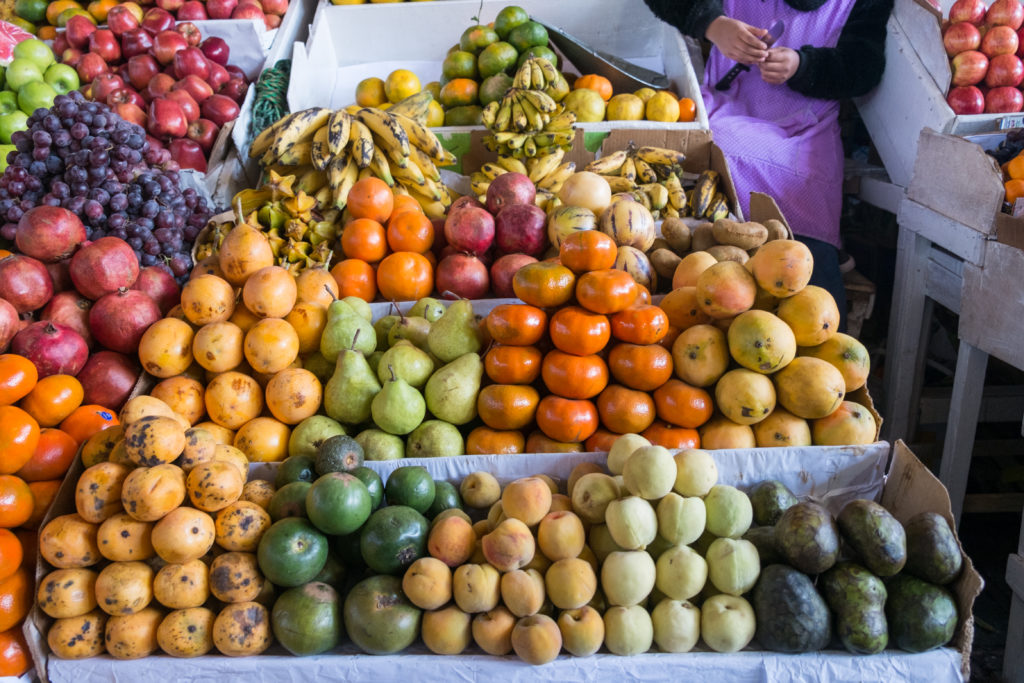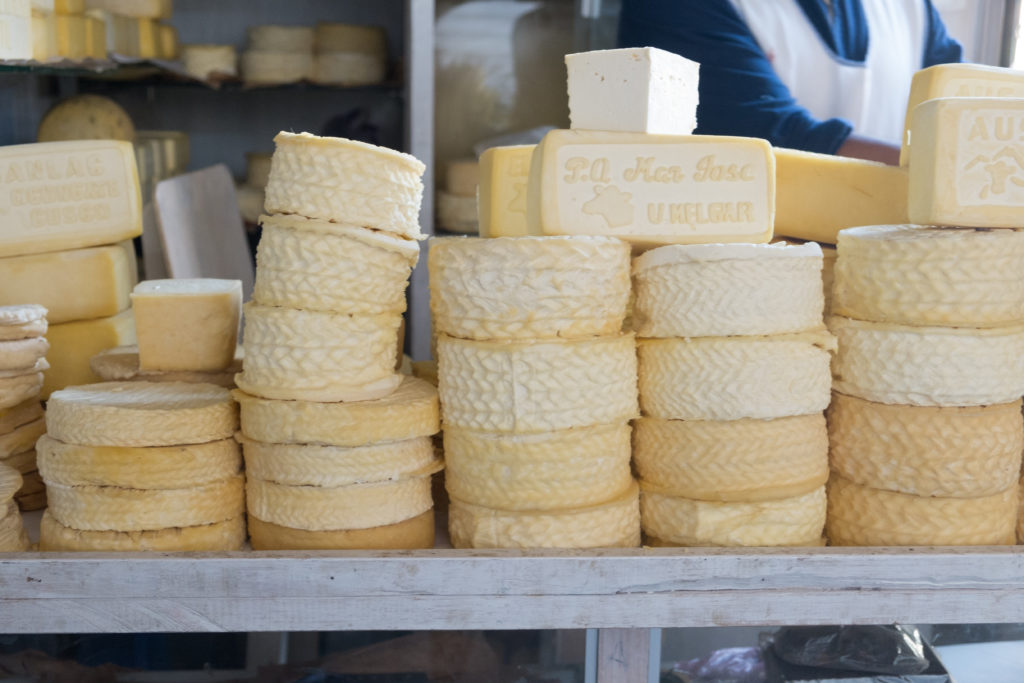 Plaza San Francisco Street Vendors
During a free walking tour we were lead through a street market full of local food stalls in Plaza San Francisco. The guide noted that this market was in the Plaza every Sunday and had many traditional Peruvian foods for reasonable prices. So after the walking tour, we tried chiriuchu (which means "cold meat" in Quechua), a 20 SOL festive Peruvian meat platter with huacatay stuffed Guinea pig, roasted chicken, jerky, crunchy corn kernels, cheese, and corn bread. Also, we picked up some fresh passionfruit and strawberry juices (1 to 2 SOL each) and finished off our meal with freshly fried picarones (2 SOL for 4), fried dough topped with passionfruit syrup.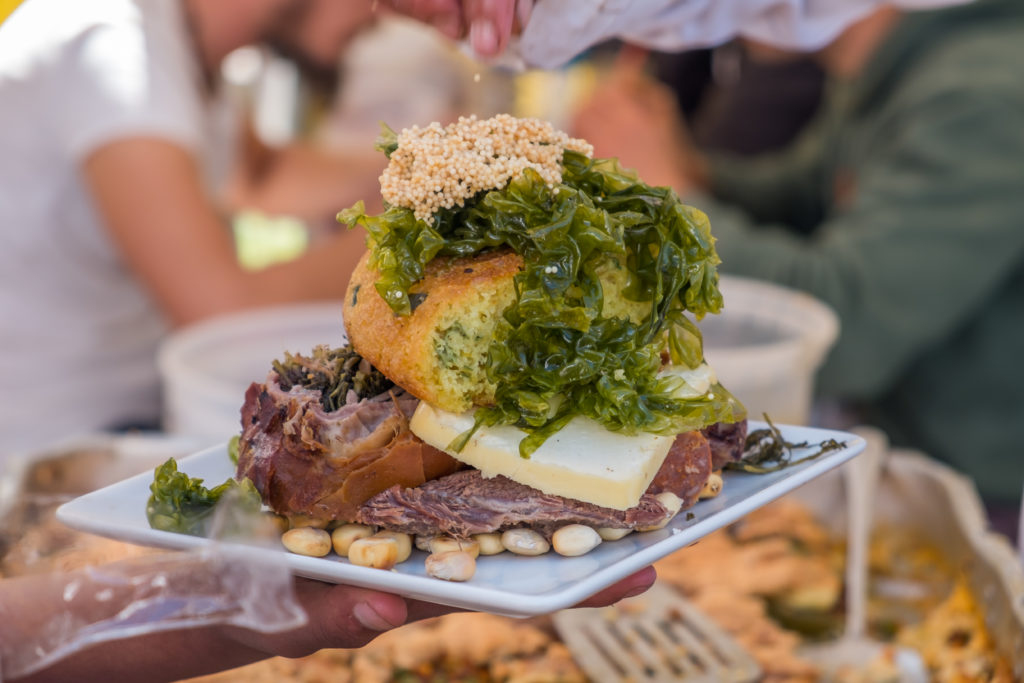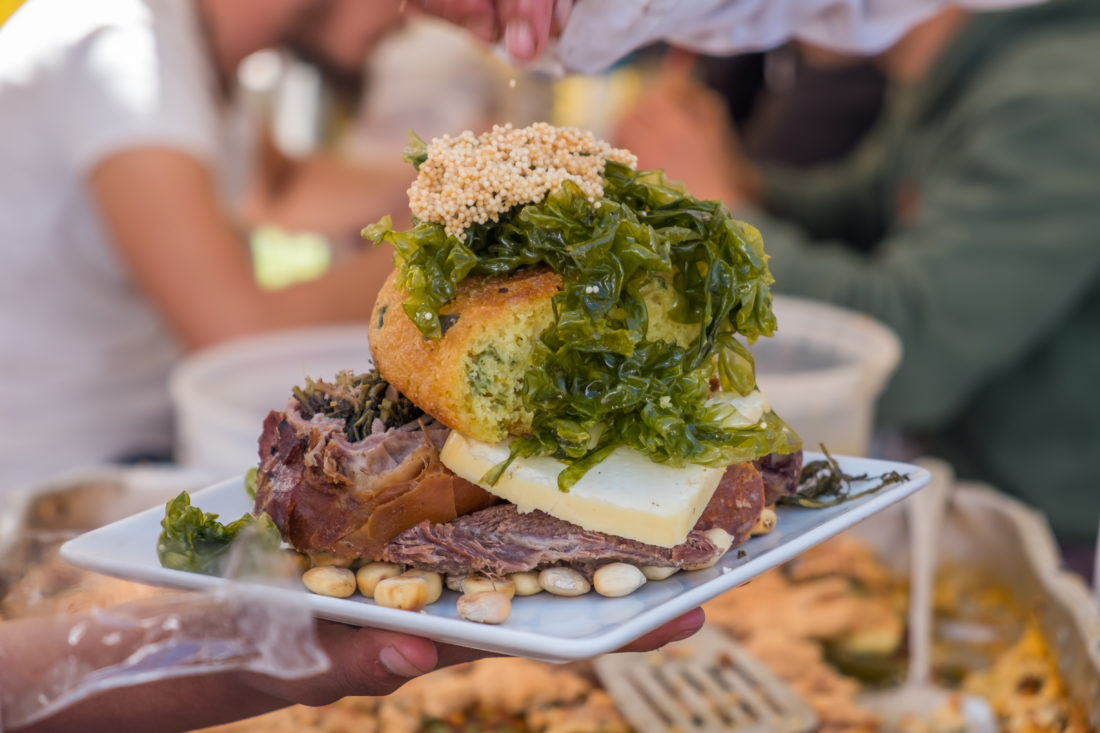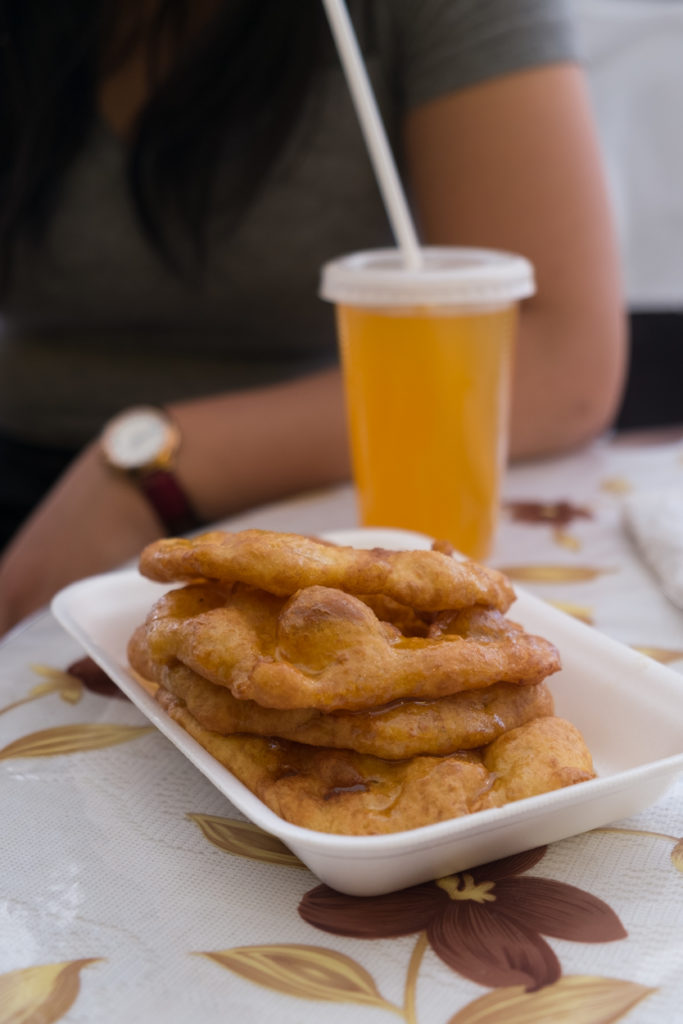 Local Lunch Spots
If you're looking to eat like a local check out Qori Sara and Cafe Quinua. These hole-in-the-wall Peruvian diners offer three and two course meals under 10 Peruvian soles (less than $4 CAD). 
Restaurante Q'ori Sara
Restaurante Qori Sara is steps away from Plaza San Francisco. The local hot spot is packed during lunch time, likely because of the a daily lunch special. For 10 SOL, get a small salad, hearty bowl of soup, a main course (meat + carb) and a glass of chicha morada (purple corn juice). I had a seaweed salad, potato and corn soup, and roasted chicken with pesto pasta. It wasn't the biggest culinary delight, but it was enough food to take home for dinner. Also worth noting, the chicha morada at Q'ori Sara was the best on our trip.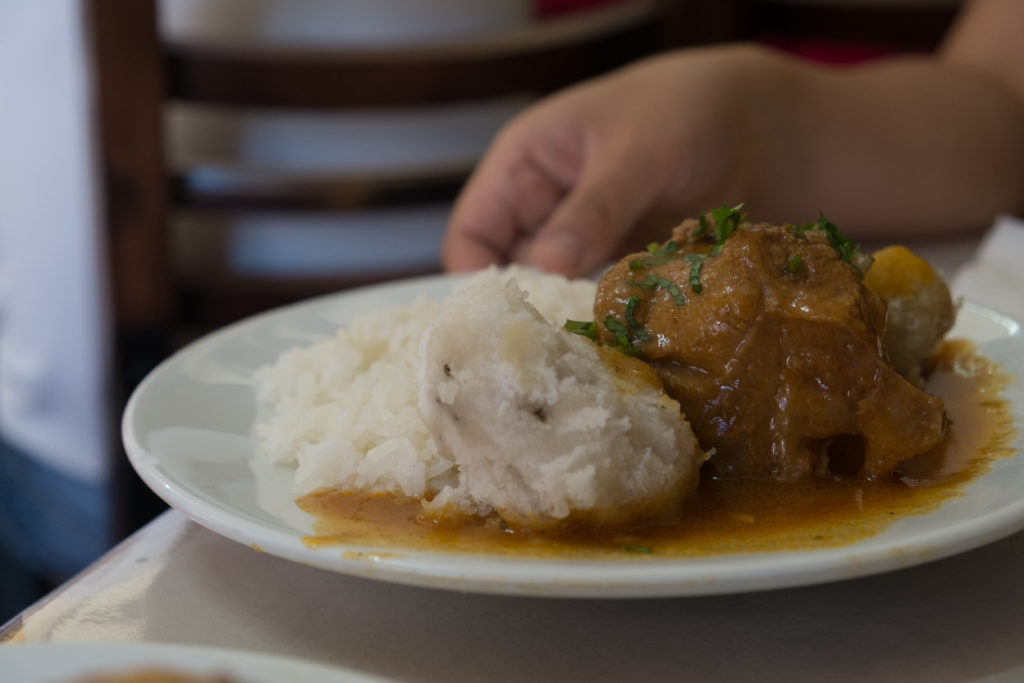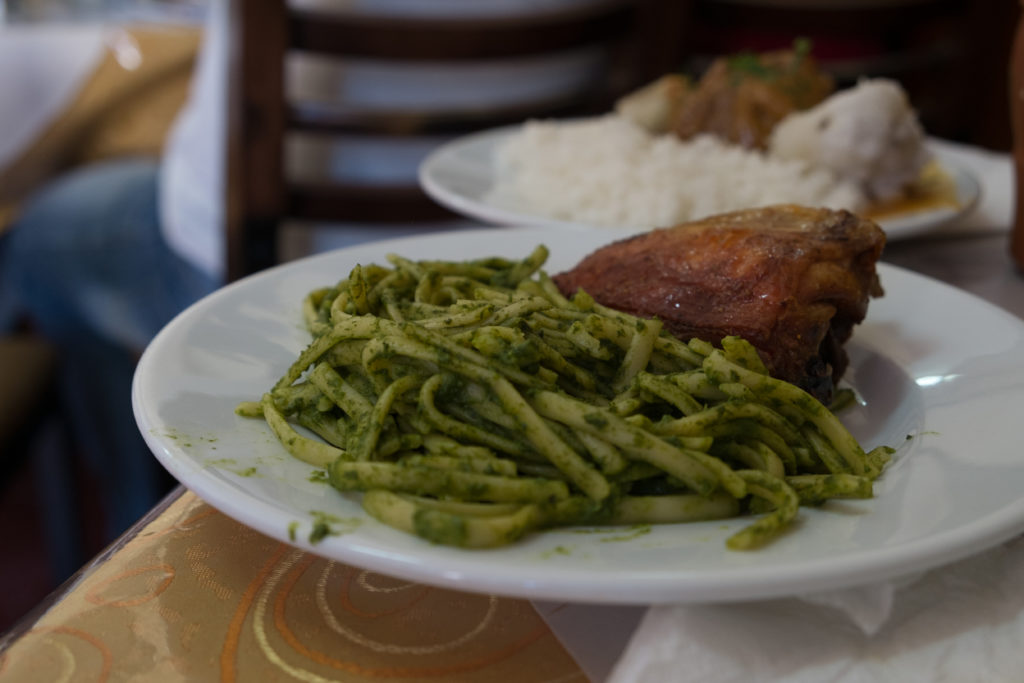 Quinua
 Cafe Restaurant
Similarly, Cafe Quinua offers an inexpensive dinner menu. It's a short uphill walk towards San Blas from Plaza De Armas. For 7.50 SOL, get a soup, main course, and chamomile tea. I had a potato soup, then pan fried trout with rice and papas fritas (potatoes) for my main. Cafe Quinua seemed to be a friendly, family run restaurant and the owner was patient enough to have a conversation with us in Spanish.
Organic Fare
Organika
If you're craving a taste of home, Organika features a menu full of westerner-friendly dishes made with 100% organic ingredients. My friends and I all ordered the trout salad – a pile of greens with slivers of smoked trout and tossed with a passionfruit dressing. Waitstaff are very friendly and speak English and pricing is comparable to a meal in Canada (22 SOL / 13.75 CAD for the trout salad).
Note: the restaurant is cozy, which is a euphemism for "very little seating", so make a reservation or be prepared to wait in line.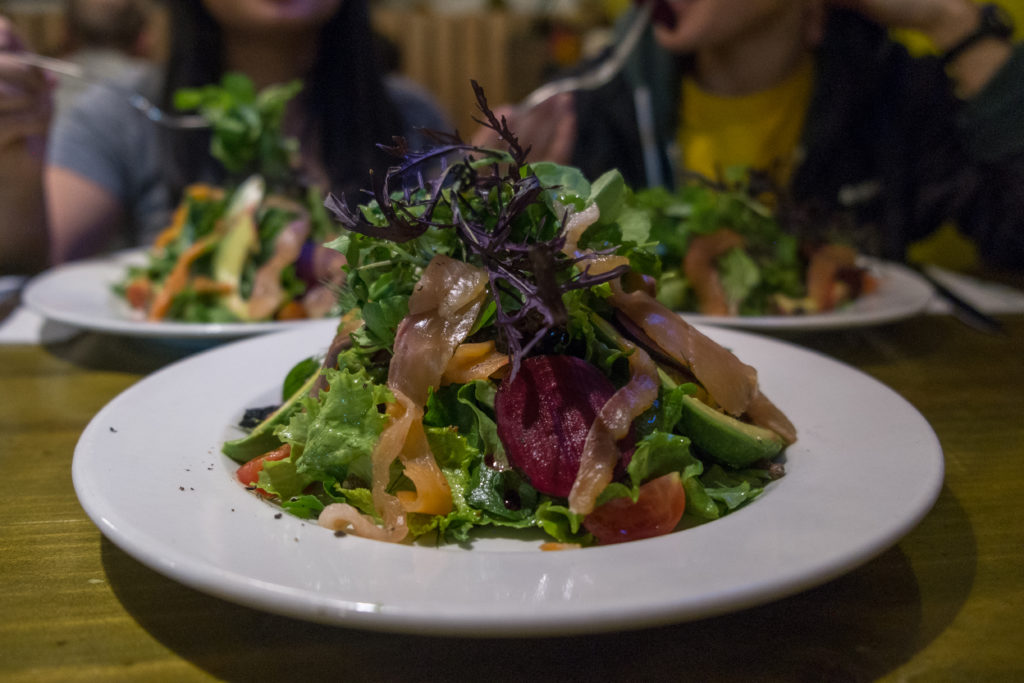 Ayni Organic
Even if you don't care for organic food, Ayni Organic has one of the best views in the city. The small restaurant is inside the Sunset Hostel in the bohemian neighbourhood of San Blas. The menu features vegan/vegetarian options, local fare (alpaca) and Westerner-friendly salads and burgers. I ordered a salad with trout, mixed greens, broccoli and sweet potatoes topped with a vinaigrette and sesame seeds for ~20 SOL. The salad was simple, tasty and filling enough for a light meal. Gloria had a veggie burger and was less impressed than I.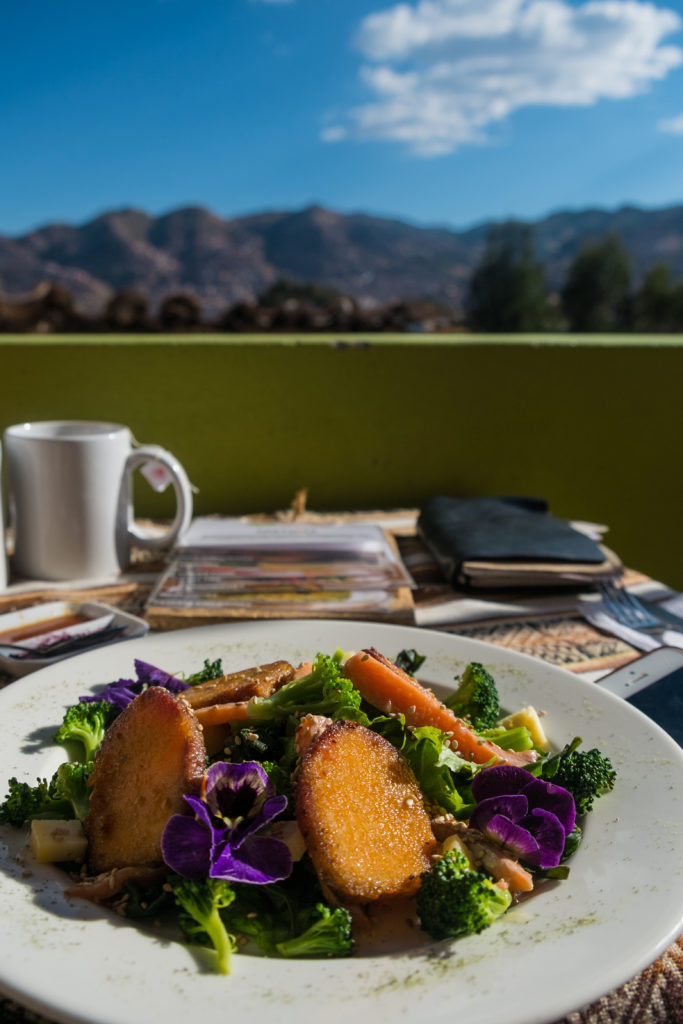 Cafes and Desserts
Qucharitas
There is always room for ice cream and during our time in Cusco, Qucharitas filled that void twice. This busy cafe serves cold-stone ice cream (among other less important things). Choose an ice cream base and a fruit, then watch the staff mash them together on a frozen piece of metal. The blending options are endless. I went simple and ordered a vanilla and chirimoya ice cream (5 SOL for 2 scoops). If you don't feel like ice cream, the menu also includes coffees, crepes and cakes. 
In addition to making great ice cream, Qucharitas is also a wonderful hangout spot. Walk to the back of the cafe for an open-air courtyard and Foosball table.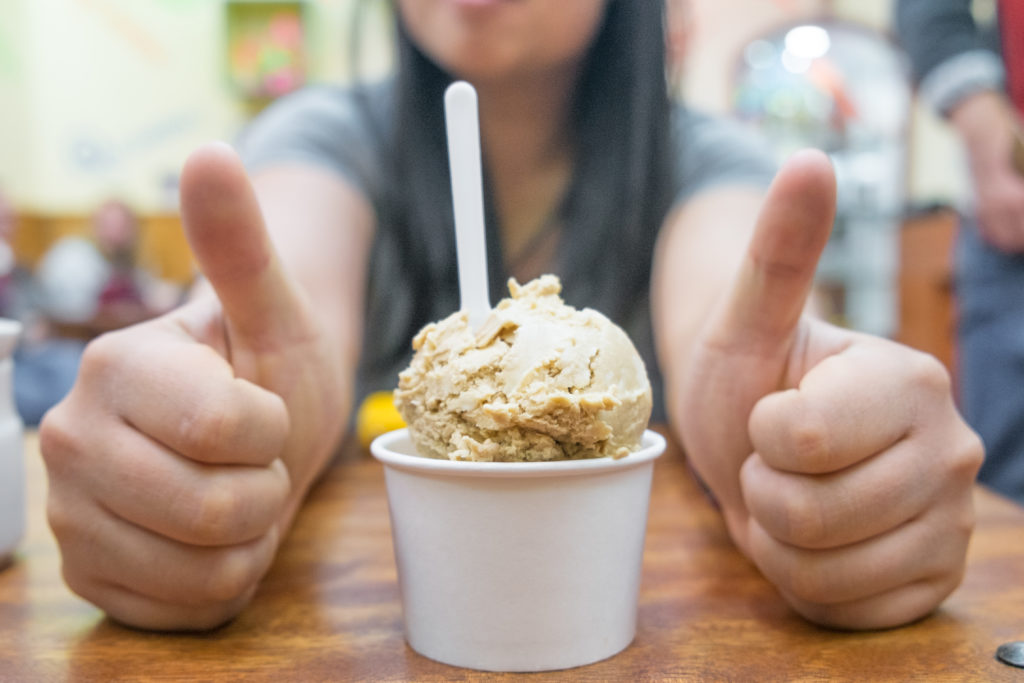 Cafe Punchay
Go to Cafe Punchay for the serene rooftop patio overlooking a quiet street, fresh fruit juices and coffee. There's not much to say here other than the fact that it's the perfect place to relax with friends, write in your journal, or people watch the passerby on the street below.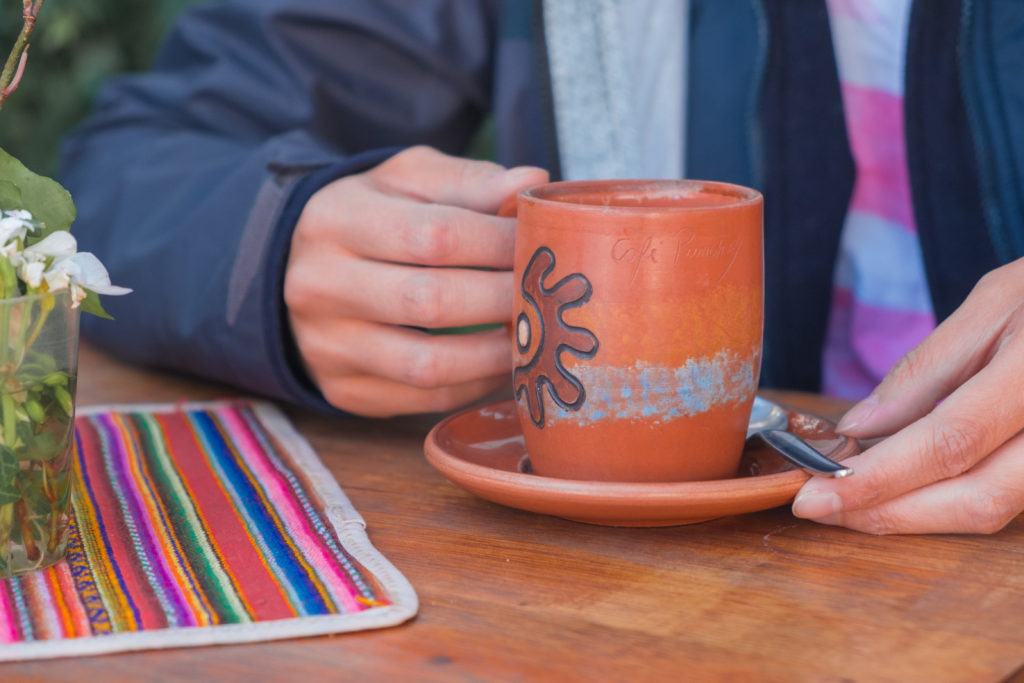 Have any recommendations on where to eat for cheap in Cusco? Leave them in the comments below.