Dazzling Cafe is a Taiwanese chain of over 200 adorably decorated restaurant spaces in China, Hong Kong, Singapore, Malaysia, UK, and Canada. There are four Canadian locations, two of which are situated in the Greater Toronto Area (GTA) – North York (Yonge and Sheppard) and Markham/Unionville (Kennedy and 407).
I had the pleasure of attending a tasting event with my friend Natalie. This was a first experience for the both of us, but we had both heard good things about Dazzling Cafe's photo-worthy giant honey toasts and Asian-fusion pastas.
The Decor
When I stepped into Dazzling Cafe, I immediately noticed the decor. It appealed to young 6-year old Stephanie. Think Alice in Wonderland tea party,,,pink and white everything and chairs with built-in bunny ears. Super cute but completely outlandish at the same time. In essence, it's a nice place to meet a girlfriend but I don't think my boyfriend would dare step foot inside!
The Food
Dazzling Cafe Strawberry Clouthie

To start, we ordered drinks, I had a Strawberry Clouthie ($7.50)  and Natalie ordered the Mango Passionfruit Mojito ($7.50). To clarify, Cloud + Smoothie = "Clouthie". The Strawberry Clouthie is a lightweight yoghurt-based drink. On the day of the tasting, it was cold and rainy but after devouring the Strawberry Clouthie in a couple slurps, I was taken to a place of happiness. Also, I find that some strawberry-flavoured drinks can be too sweet or taste artificial. I found Dazzling Cafe's Strawberry Clouthie to be nicely balanced.
Taiwanese-Style Snack Platter

Next, we shared the Taiwanese-style Snack Platter ($9.99), which included an assortment of Taiwanese appetizers including fish balls, pork sausages, deep fried sweet potato balls, fish cakes, and dipping salt. Everything on the platter is fried, so it's not the healthiest of dishes. That being said, at no point did I think that it was overly greasy. The half-circle fish cakes were my favourite – crispy on the outside, chewy on the inside.
Mentaiko Fries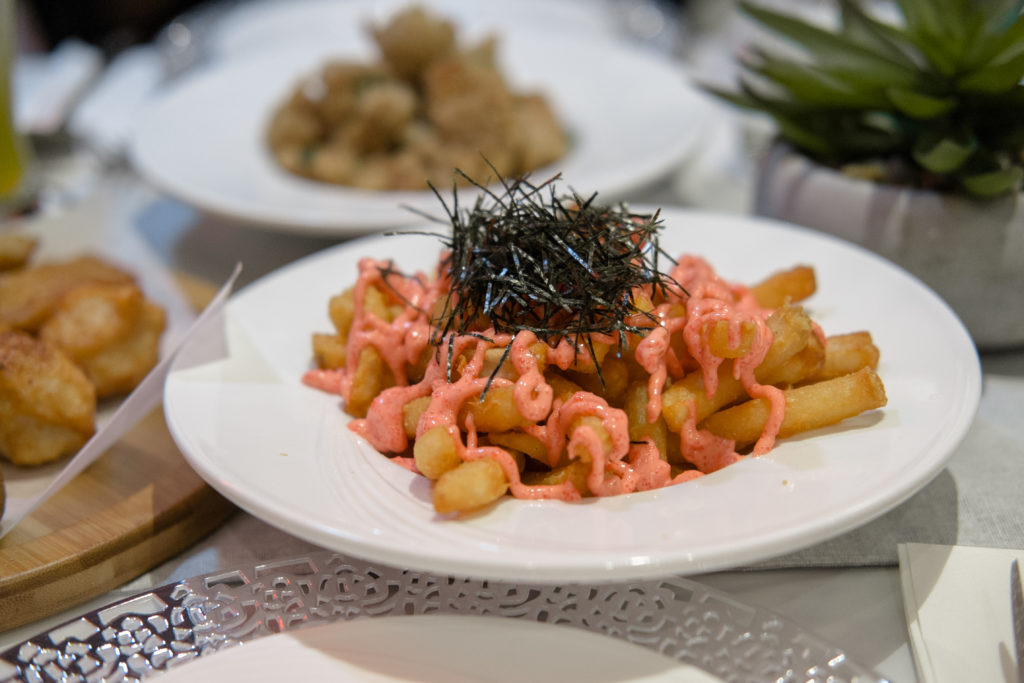 We didn't order the Mentaiko Fries ($8.99) but the very friendly people beside us let me snap a photo and try the fries. "Mentaiko" is a fancy word for pollock roe or fish eggs. The fries immediately reminded me of Costco, which in my opinion are the best french fries in the world. The mentaiko and nori add a nice saltiness and fishy sweetness to the fries.
Seafood Udon
Next up, we had the Seafood Udon ($10.99), a new addition to Dazzling Cafe's menu. Natalie and I had the same first impression. University noodles. The udon was reminiscent of the $1-$2 udon noddles found at the only Chinese grocery store in Waterloo (where Natalie and I went to school). Despite the nostalgic textures flavouring, the Seafood Udon at Dazzling Cafe is a more elevated take on our student meals. The addition of fried garlic and sesame seeds made for a great hit of texture and flavour. Moreover, 17-year old me probably would have overcooked the poached egg, mussels and shrimp.
Matcha Read Bean Honey Toast

Last but not least, we were served the Matcha Red Bean Honey Toast ($16.99) for dessert. I know that $16.99 seems pricey but Dazzling Cafe's Honey Toasts are monstrous.The Matcha Red Bean Honey Toast is a meal in itself. More likely than not, you will need to share with 3 friends. The Matcha Red Bean Honey Toast features three thick-cut slices of bread topped with a scoop of matcha ice cream, red beans, and a ton of marshmallow whip. Fun fact: the marshmallow whip doesn't melt so you can take 123091238 pictures before eating it and it will stay in place. Anyways, the toast actually hollow and inside is smaller cubes of toast. These toast cubes are meant to be slathered with ice cream, then dipped into the dollop of marshmallow fluff.
Overall
All in all, my first experience at Dazzling Cafe was a hit, though I would order a lot less food. For me, the star of the show was the Matcha Red Bean Honey Toast and I'd definitely head back for another.
This meal was complimentary, thanks to Dazzling Cafe and Sensu Communications. Opinions expressed here are my own and not those of the restaurant.