Miku Toronto is a restaurant under the Aburi Restaurants group, with 3 other restaurants in located in Vancouver, BC. Located in Toronto's Financial District, the restaurant is a hot spot for high quality aburi or "flame seared" sushi.
The menu features an array of Japanese-style appetizers and entrees, but by far, the most popular Miku menu items are the Kaisen Coal Harbour Seafood Platter and the Aburi Oshi Sushi (thanks, Instagram). I wanted to try a little bit of everything, so I opted for the Miku Zen Lunch.
Miku Zen Lunch
The Miku Zen Lunch includes miso soup, four seasonal appetizers, and five pieces of signature aburi sushi for $29 CAD + tax. There is also the option to add half of a green tea opera (a genoise cake with matcha buttercream, hazelnut wafer, dark chocolate ganache, adzuki bean cream and matcha ice cream for $6.75). The Miku Zen Lunch is good for those who are interested in trying a wide array of Miku offerings (including the Aburi), perfect for my first time at the restaurant.
The Food
My Miku Zen Lunch, which varies seasonally, came with the following:
Miso Soup
Miso Marinated Tofu Salad
Ebi Fritters
Chicken
Sashimi with minced caremilized onions
Aburi Sushi Platter

Salmon Oshi Sushi x 2
Akami Nigiri with Wasabi Masatake Sauce
Ebi Nigiri with Basil Miku Sauce
Coal Harbour Roll with spicy tuna and aparagus, wraped in Hamachi
Miso Soup
Awase miso (mixture of red and white)
I don't think I've ever had an out of this world bowl of Miso soup. This one was pretty good but not out of this world.
Miso Marinated Tofu Salad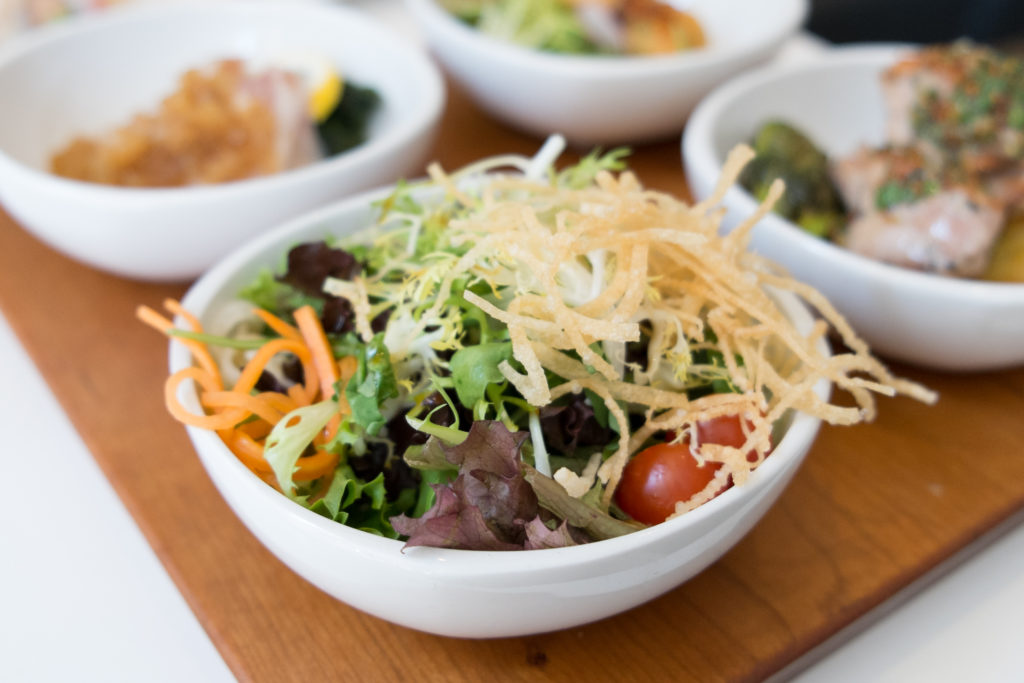 Local market greens, pickled daikon and carrot, cucumber, cherry tomato, crispy wonton, umami soy vinaigrette.
The salad greens were uninteresting (and very similar to the ones you might find at Costco) but the miso marinated tofu had some nice umami.
Ebi Fritters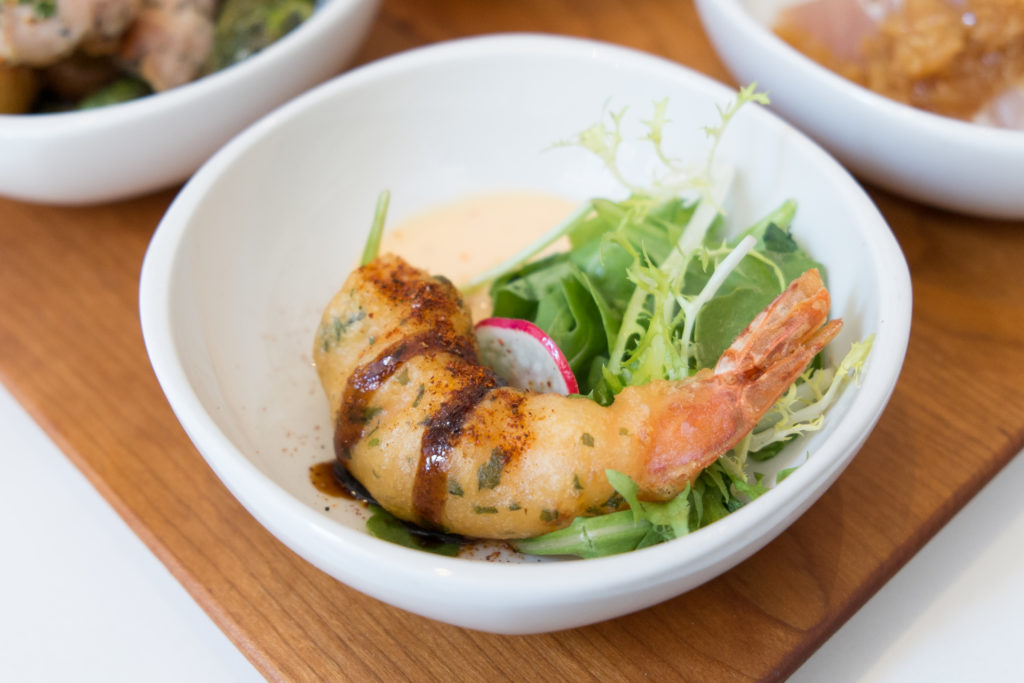 White tiger prawns, herb-beer battered, sweet chili aioli, chili powder, soy-balsamic reduction
Crunchy, sweet, sour. I'm easily pleased with fried anything and these two beer-battered prawns hit the spot.
Sous Vide Chicken Thigh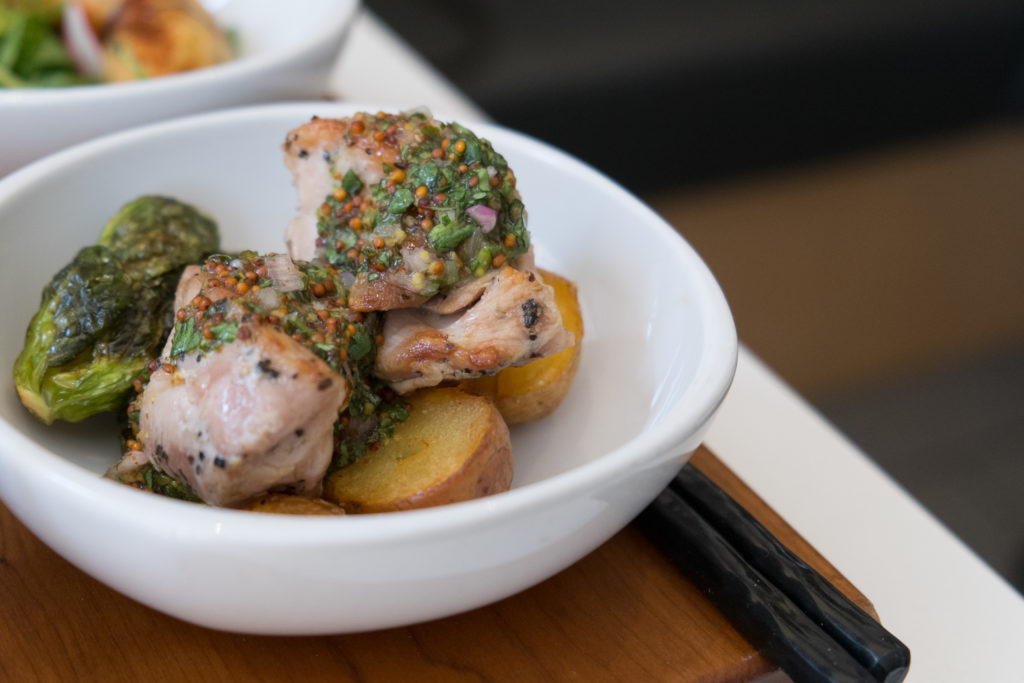 Sous vide chicken thigh, grainy mustard gremolata, baby potatoes and crispy brussel sprouts
Another winner, though it's sad to see this one was not on the regular menu. I'm not usually a fan of mustard, but it was slightly sweeter than your typical. I could have licked the mustard sauce off the bowl (if I wasn't in a public dining space).
Aburi Bincho Sashimi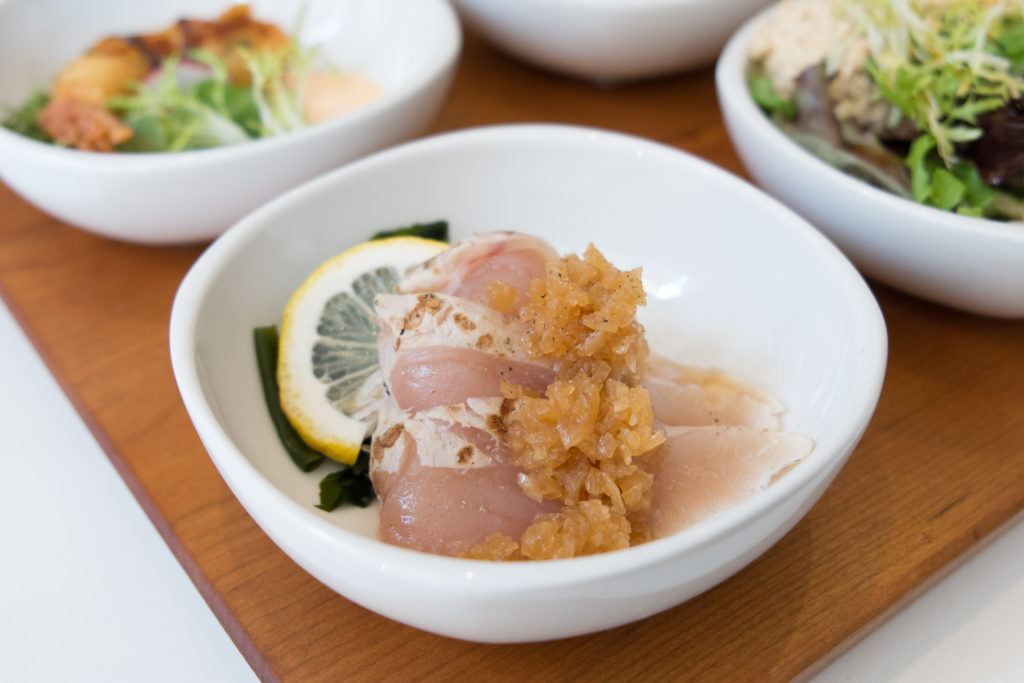 White tuna, masatake sauce (onions, garlic, soy)
Aburi Sushi Platter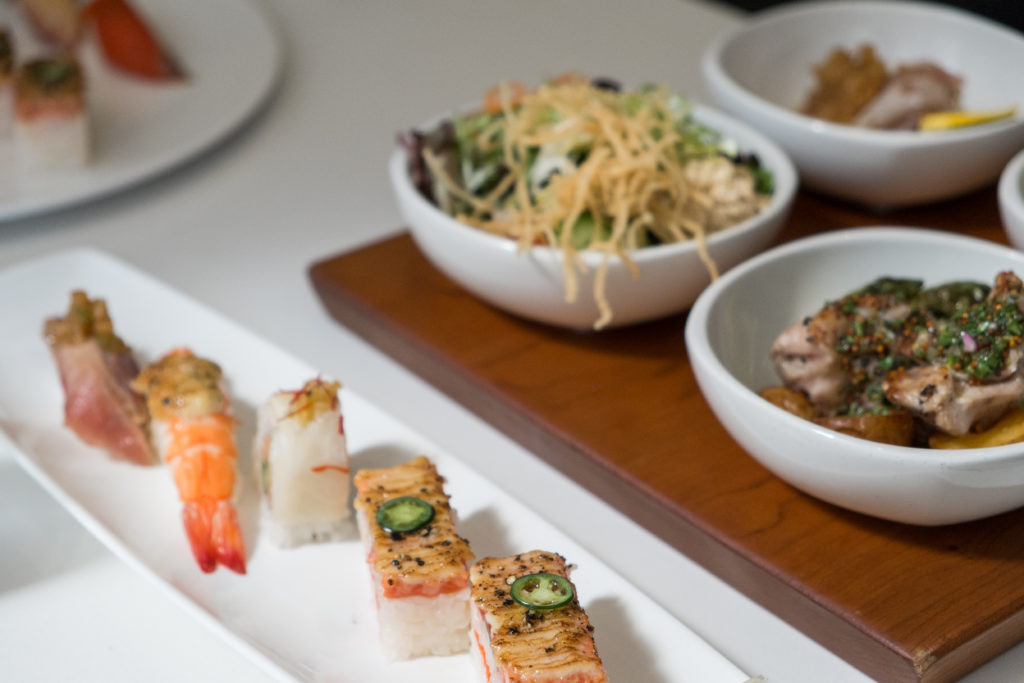 The Salmon Oshi Sushi (pressed BC wild sockeye salmon, jalapeno, Miku sauce) is what I went for and it did not disappoint. Properly cooked rice, fatty salmon topped with a slightly sweet sauce and a little spice from the jalapeno to cut the fat – ugh. The other aburi items were fresh and tasty as well but I would have been completely satisfied with 5 pieces of Miku's signature Aburi Salmon Oshi Sushi. That being said, I've heard that Aburi is better at other Toronto sushi hotspots like JaBistro which I have never tried, so Miku's Aburi sushi set the bar.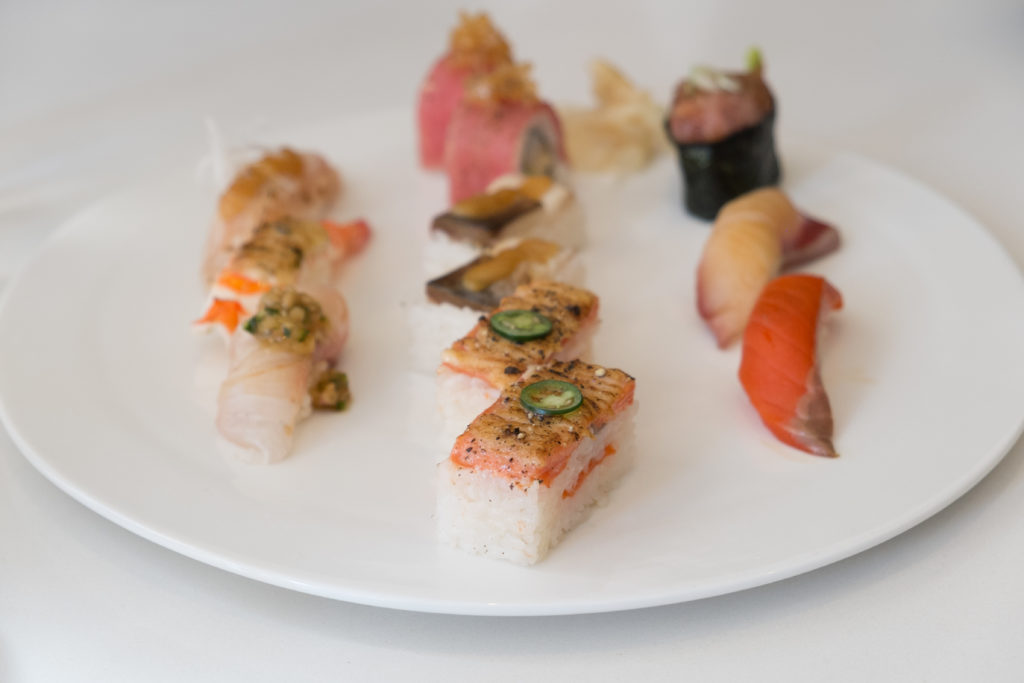 My friend Natalie got the Premium Sushi Lunch, which comes with a 12 pieces of traditional and Aburi nigiri, oshi and sushi rolls. She had nothing but positive things to say about it.
Service
Service was polite and helpful. We were initially sitting on the patio, however when the food was brought out there were insects swarming our food (yuck!). So, the waitstaff were kind enough to carry all of our plates and soups back inside.
The restaurant was not busy while we were dining (around 12PM to 2PM on a Saturday), however the waitstaff were not particularly attentive. They came around to briefly describe the dishes, ask how the meal was after we were served and offer a dessert menu, however we didn't get our initial glasses of water filled and had a hard time making eye contact with someone to bring us our receipt. Not that we were in a rush, but I expect a lot from any meal that is more than $30 and isn't AYCE (all you can eat).
Overall
3.75 pieces of Aburi sushi out of 5
My first experience at Miku Toronto was very positive. Despite being on the pricey side for lunch, I think it's justified given the freshness of the fish and the uniqueness of the flavours offered in the appetizers. The pieces of sushi are pretty small, so I savoured every bite. I don't think I'd frequent the place but it's nice for a special occasion. Also, I may have cravings for a couple pieces of Aburi Salmon Oshi Sushi in the near future, so it's likely that I'd eat at Miku Toronto again.
Miku Toronto
10 Bay St #105, Toronto, ON M5J 2R8
mikutoronto.com
Lunch:
Monday-Friday 11:30am-3:00pm
Saturday, Sunday & Holidays 12:00pm-3:00pm
Bar Bites 3:00pm-5:00pm (Daily)
Dinner:
Sunday-Thursday 5:00pm-10:00pm, Bar Bites 10:00pm-Late
Friday-Saturday 5:00pm-10:30pm, Bar Bites 10:30pm-Late
Reservations can be made via OpenTable or by phone