The Salkantay Trek is a 5 day, 4 night, 70+ km multi-day hike to Macchu Picchu. It's often taken as an off the beaten path alternative to the Inca Trail or is for those who aren't able to book the very popular Inca Trail.
I went with my uni friends Gloria and Lucy. We sifted through hundreds of tour operators (we had a spreadsheet because we're accounting nerds), eventually deciding on SAM Travel, a local tour company, for its positive TripAdvisor reviews and a recommendation from one of Lucy's friends. 
The Salkantay Trek with SAM Travel ($557 USD) included most of the necessities – three meals a day + snacks, clean water, camping gear, a tour guide, horses and donkeys to carry duffel bags etc. The only extra costs were walking stick rentals ($15 USD), washrooms (1 or 2 Peruvian soles or free if you are familiar with "nature's toilet"), tips (optional but recommended), the bus from Macchu Picchu back to Aguas Calientes ($12 USD), lunch on the last day, the entrance fee to the Colcamayo hot springs (10 Peruvian soles), and the entrance fee to hike Huayna Picchu Mountain at Macchu Picchu.
Before the Salkantay Trek
Shortly after our arrival in Cusco, we met our tour guide, William, at the SAM Travel office. He walked us through the itinerary for the trek and reminded us to bring of what to pack.  William also warned us that the Salkantay Trek was for "experienced hikers only". I laughed nervously because (1) it was my first trek/multi-day hike and (2) I have the physique of a potato. 
DAY 1 – Cusco to Soraypampa

 to Lake Huamantay to Sorayqocha 
Driving Time: 3.5 hours
Hiking Time/Distance: 6 to 7 hours, 10 km
Difficulty: Challenging
At 5AM, a van picked us up from our hostel. We made a washroom stop in the tiny town of Mollepata and arrived in Soraypampa around 8:30AM. At a little hut beneath the mountain, breakfast was served. Then, we began our ascent to the top.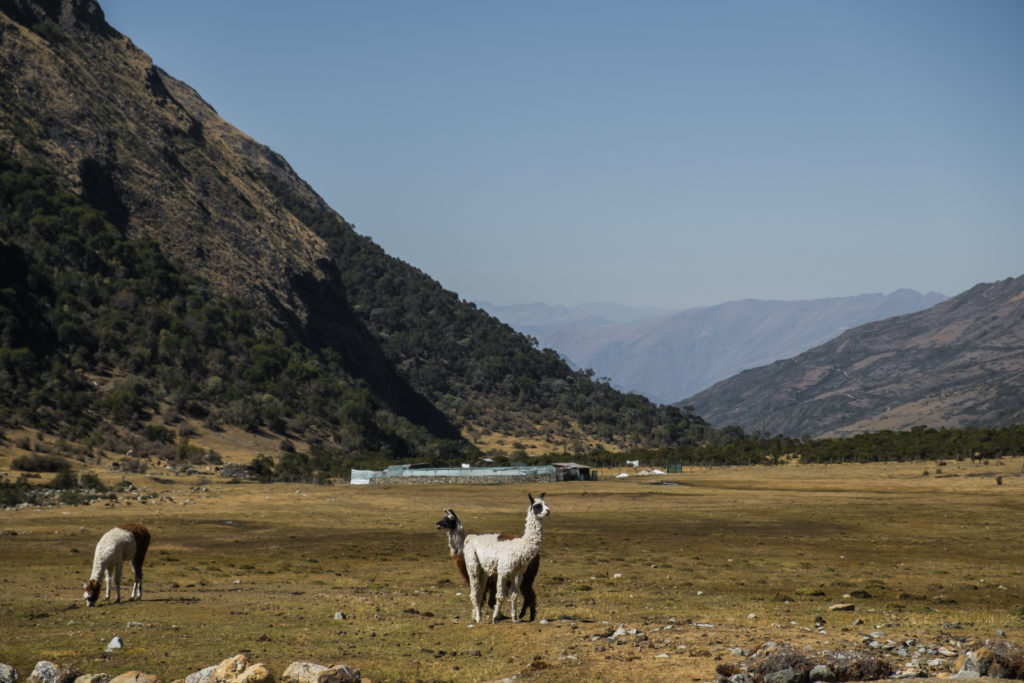 William described Day 1 as "training day", a few hours for our bodies to acclimatize to the thin air and steep slopes. Within the first 15 minutes, the altitude hit me like a rock. I had trouble breathing, my legs hurt and I could only take 10 to 20 steps at a time. In addition, the trail got steeper and bumpier towards as we approached our destination. Thanks to many breathing tips from William, I made it to the top. There, we ate snacks and took pictures of the Lake Huamantay Lagoon. The way back down was steep, but it was much faster than the uphill. At the bottom we had lunch, rested, and then continued our journey to our first campsite.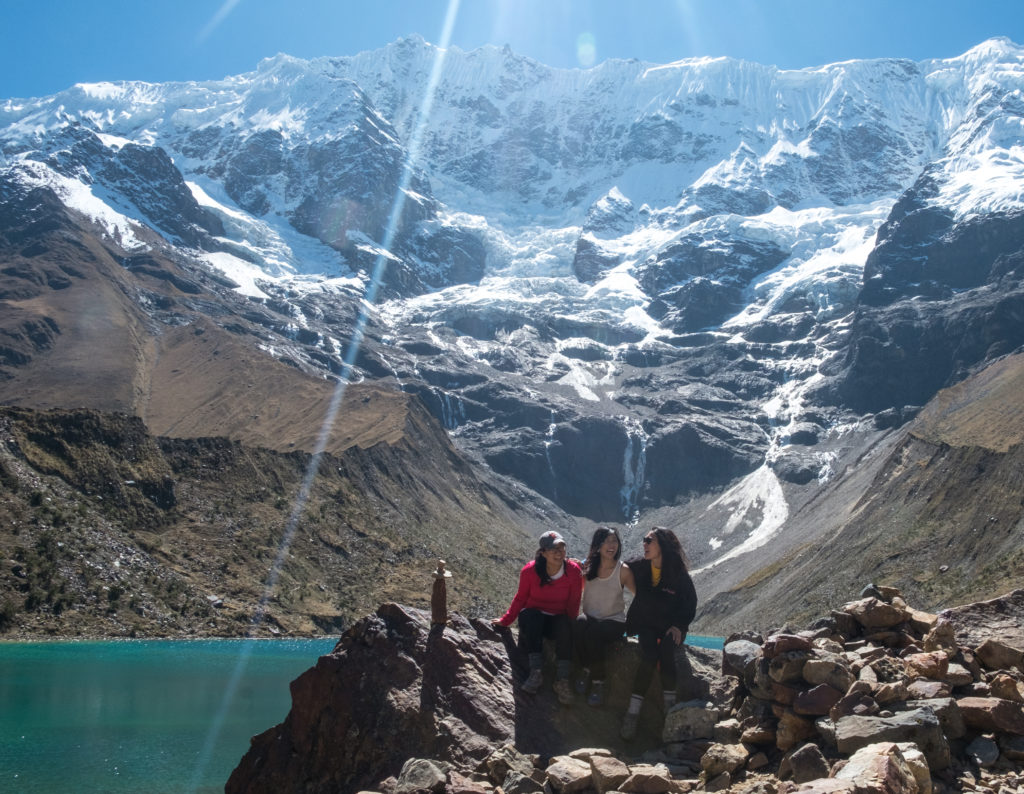 The path to Sorayqocha was similar but worse (better, if you're a glutton for punishment) – more rocky, more steep, and more narrow. Imagine me and my 4′ 11" body navigating pointy rocks more than 75% of the size of my legs. Good times.
We got to the campsite just before sunset, just at the foot of Salkantay. We had "happy tea" (popcorn and tea), dinner, then went straight to bed.
DAY 2 – Sorayqocha to Colpapampa

 
Hiking Time/Distance: 8 hours, 22 km
Difficulty: Moderate to Challenging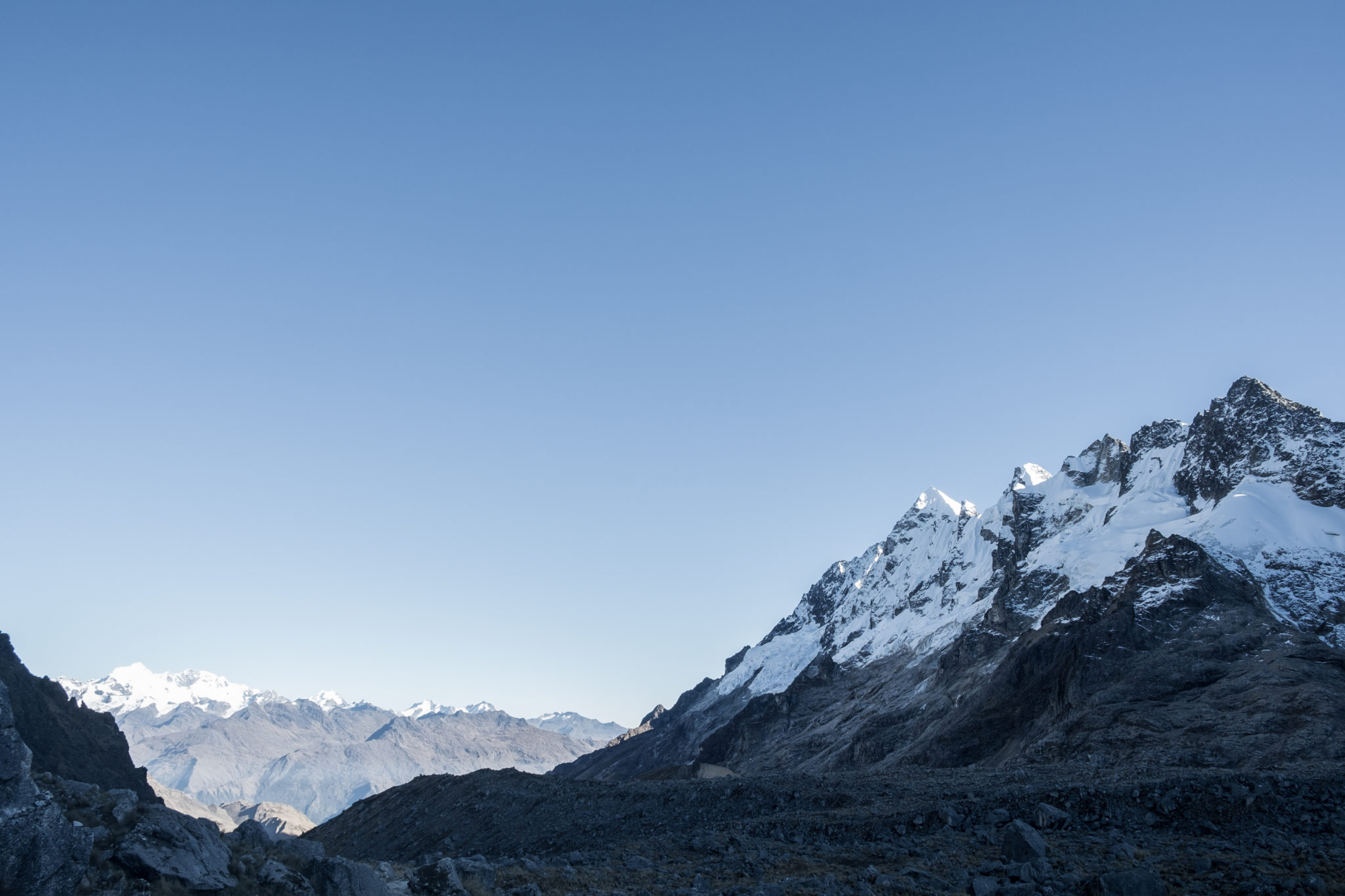 I got less than an hour of sleep because of the sub-zero temperatures, but thankfully woke up to hot coca tea and breakfast just before sunrise. We started walking a bit after sunset. The 45 minute path to the pass was icy, rocky and steep, though it wasn't as difficult as the first day since we were already used to it.
At 4,600 meters, the Salkantay Pass was was the highest point on our trek . We left offerings of coca leaves to Mother Nature, then began our 3 hour descent to lunchtime. This road was similarly steep but also dusty, with donkeys and horses passing by. It was at this point that I felt the effects of my insomnia and ended up taking a 15 minute nap on the side of the road. I was so slow that I could no longer see Gloria, Lucy or William. We arrived in a small town for lunch, followed by a 2.5 hour hike downhill to our second campsite in Colpapampa.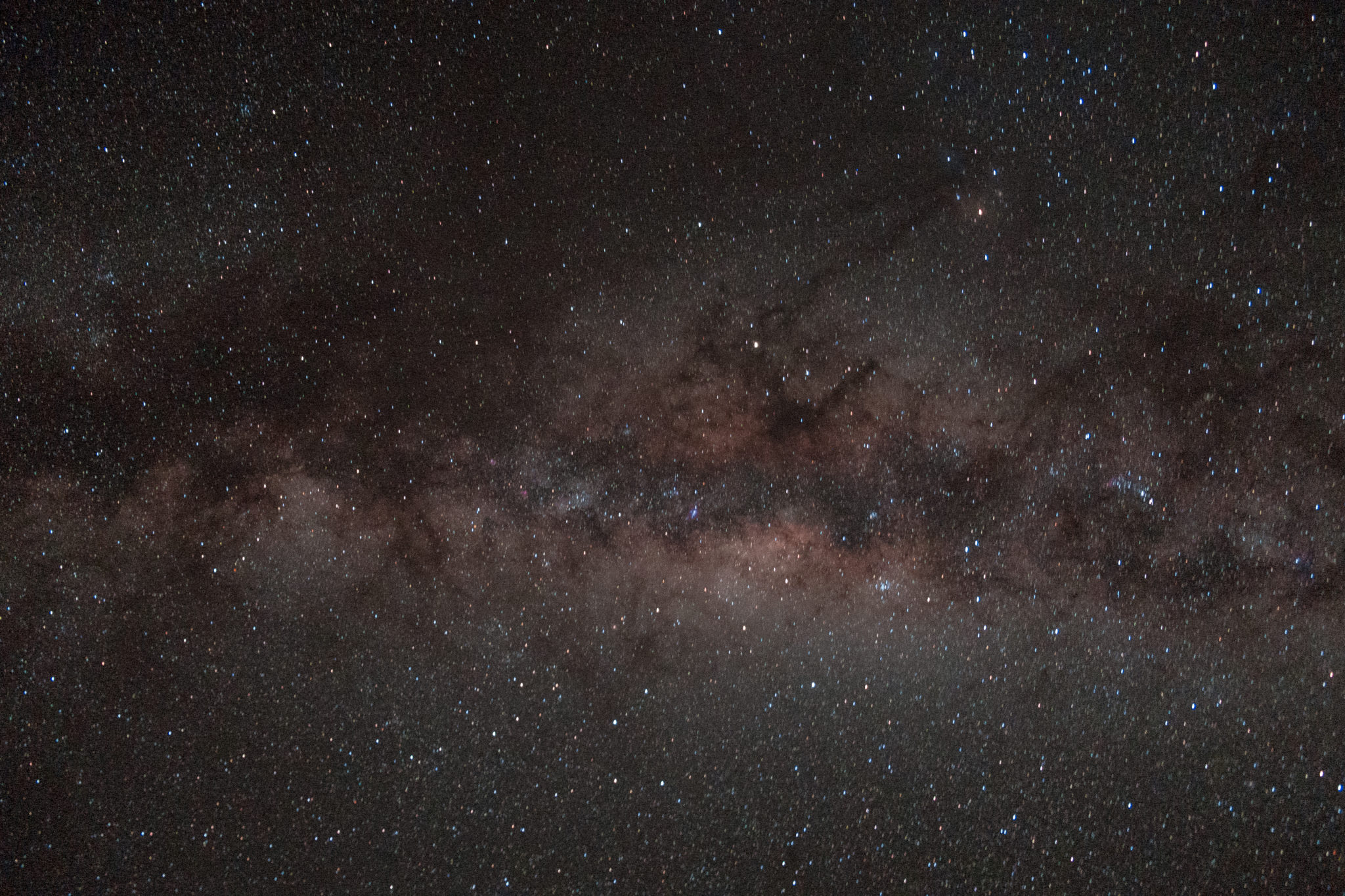 At Colpapampa, there was the option to take a hot shower for 10 SOL but we skipped out and used the time to stargaze from 2,600 meters. If you look closely at the photo above, you'll see Yacana the llama, a dark cloud constellation.
DAY 3 – Colpapampa to Lucmabamba

 
Hiking Time/Distance: 5 to 5.5 hours, 16 km
Difficulty: Moderate
I slept like a baby the night before, woke up at 5:30AM, and started our 5 hour walk to Lucmabamba. The terrain was varied – mostly along the side of a mountain but also through some forest areas, all with a level, uninterrupted path. We passed passionfruit fields and waterfalls, whilst snacking on tiny wild strawberries off the side of the trail.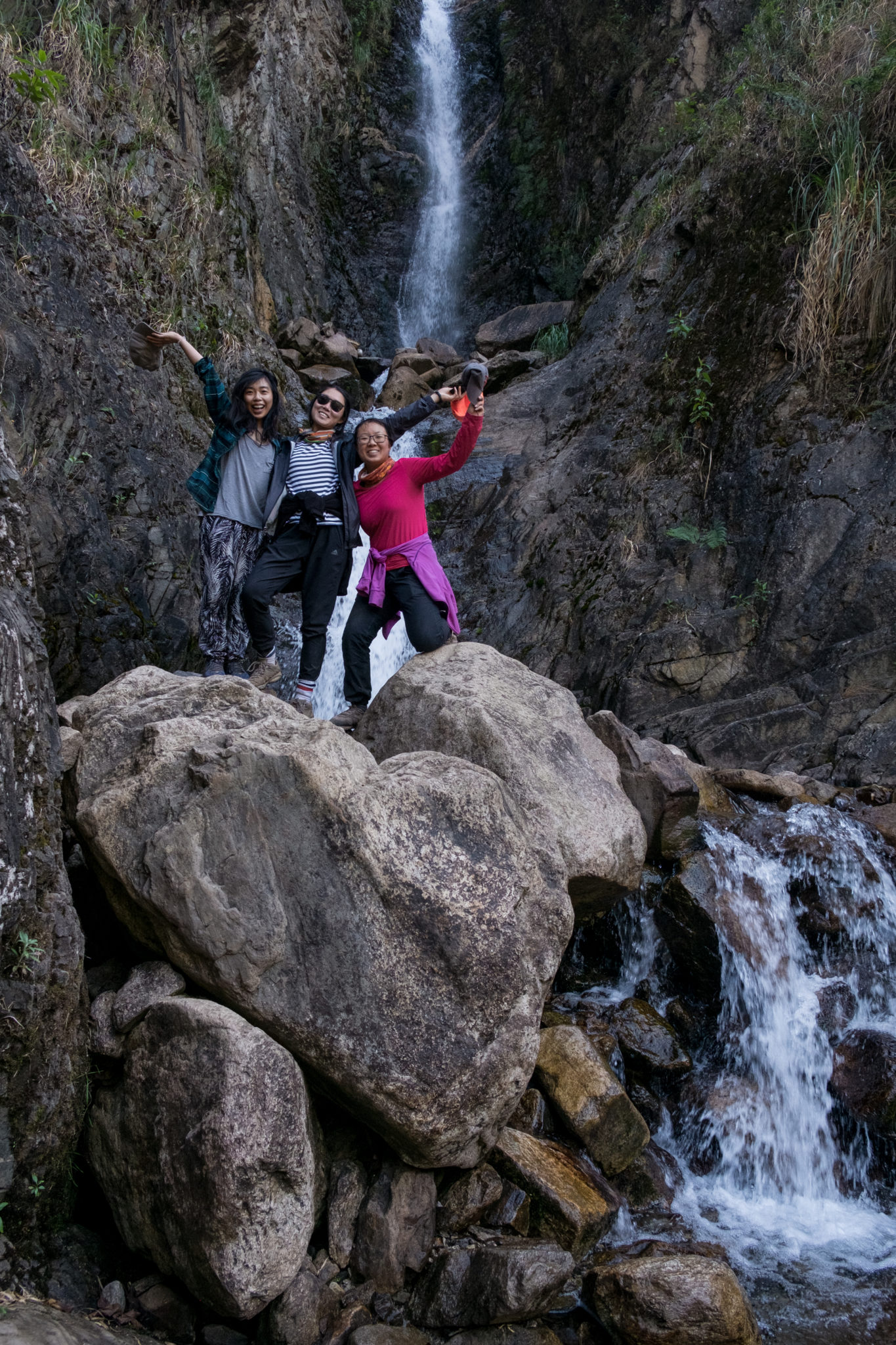 We arrived at Lucmabamba just in time for lunch, then rested before heading to Colcamayo Hot Springs. It was a 45 minute drive in what you might call a "mountain uber" (aka sketchy old car driven by a young fellow who constantly seemed distracted by his phone) to Colcamayo. The road was narrow, bumpy and uncomfortable. If you get motion sickness, this would be the time to bust out the Gravol. 
Colcamayo is a natural hot spring with 4 pools of varying temperatures up to 40 degrees. The springs were not hot enough for my preferences but it was a nice bit of relaxation after 3 days of non-stop hiking.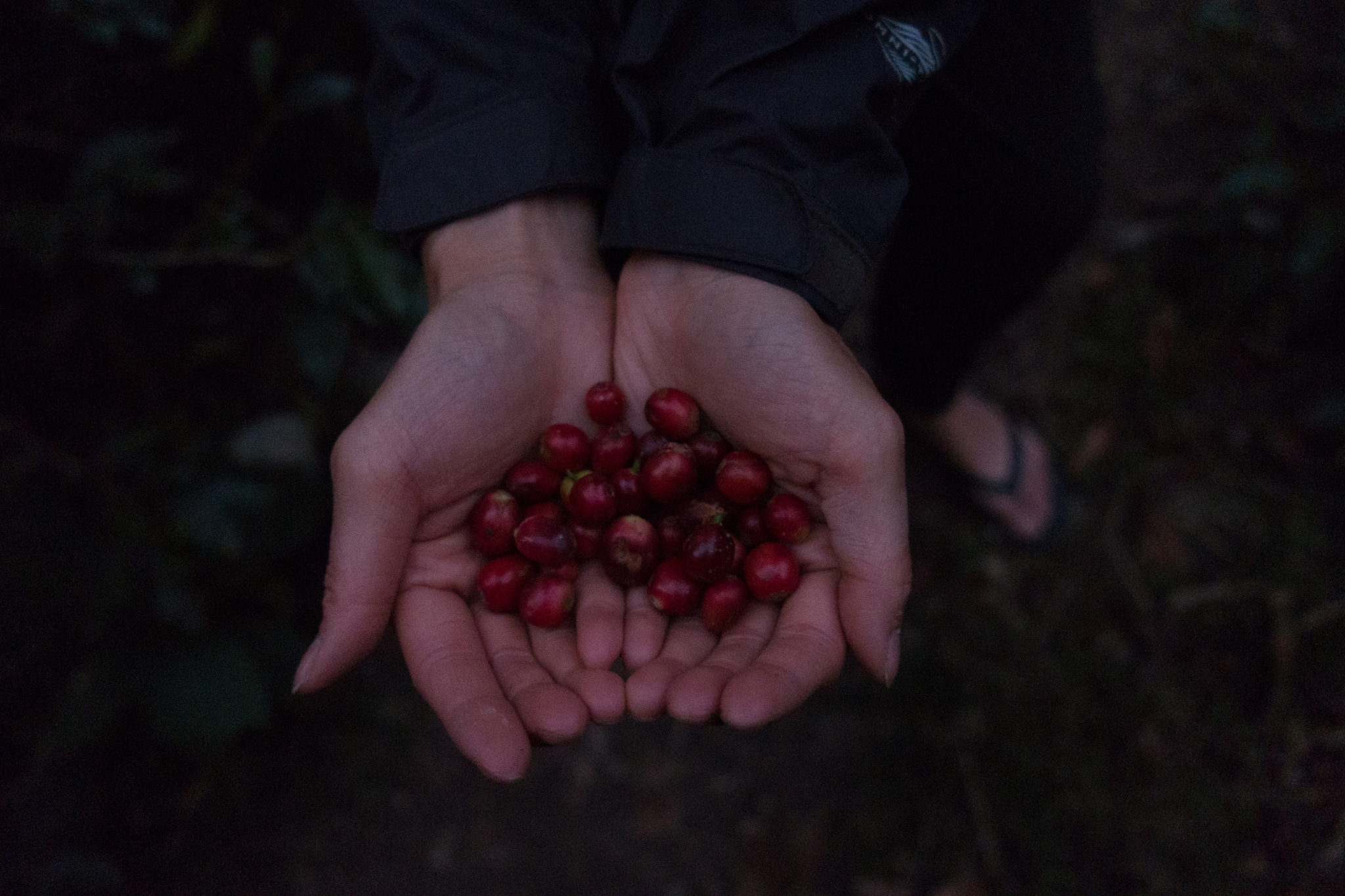 We took the mountain uber back to our campsite in Lucmabamba. When we arrived, we were greeted by the owner "Freddy Loco" (definitely not his real name). He took us on a tour of his coffee plantation, walking us from start to finish, bean to bag. We picked coffee beans, roasted them and eventually had a nice warm cup of coffee to drink.
DAY 4 –

 Lucmabamba to Aguas Calientes
Hiking Time/Distance: 7 to 9 hours, 20 km
Difficulty: Moderate
Lucmabamba to Llactapata
The day began with a rigorous hike uphill for 2.5 hours to the Llactapata ruins, a mini-ruin at the top of a mountain which is meant to have a perfect view of Macchu Picchu from afar. Unfortunately, the view was shrouded in fog due to a bit of light rain.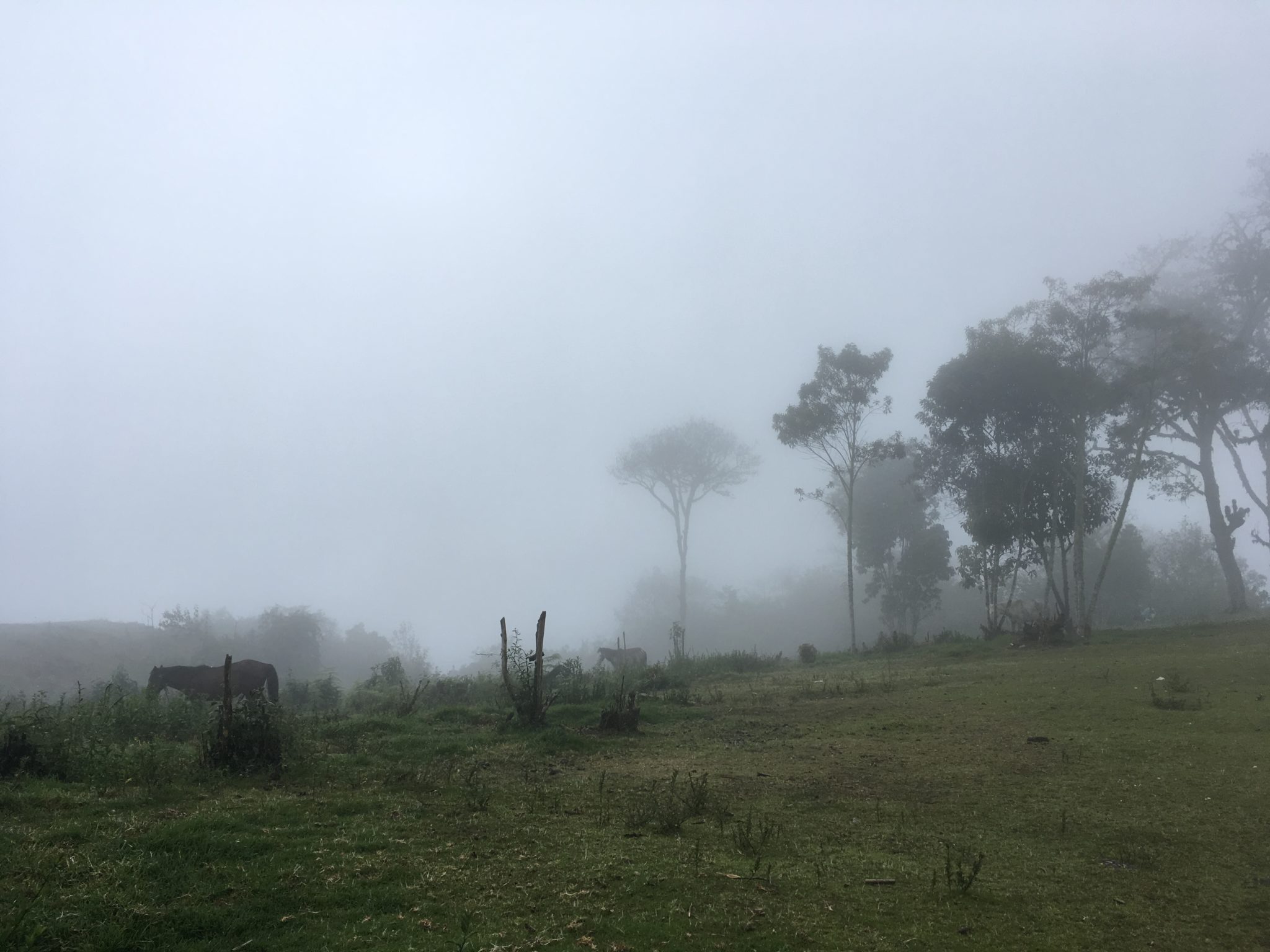 Llactapata to Hidroelectrica
Uphill climbs take physical stamina, while downhill climbs are hard on the mind and require focus. The 2.5 hour descent towards Hidroelectrica (Hydroelectric town) was muddy and slippery from the rain. I nearly fell off the mountain, after accidentally stepping on a wet spot. At the bottom of the mountain, we crossed a bridge and began walking along a road to Hidroelectrica. We arrived around noon for lunch.
Hidroelectrica to Aguas Calientes
After lunch, we walked along the railway tracks to Aguas Calientes, which were mostly covered in stones. There were some areas that had a flat dirt path. This particular portion of the Salkantay Trek should have been easy, but we were so exhausted from the earlier part of our day that it felt like forever until we arrived in Aguas Calientes.
We arrived in Aguas Calientes around 4:0o PM, headed to the Wiracocha Inn and some much needed hot showers. After that, we went to a tourist restaurant for what was one of the worst meals of our entire trip.
DAY 5 – Macchu Picchu and Huayna Picchu Mountain
Hiking Time/Distance: 3 to 4 hours, 5 km
Difficulty: Easy
Aguas Calientes to Macchu Picchu
I woke up at 1:00 AM with a fever and took a Tyelnol to calm myself down. At 4:00 AM we headed down to the hotel lobby for  a small takeaway breakfast of cheese sandwiches, water and a banana. The hotel was 3 blocks from the bus station, where we lined up to catch the busses to Macchu Picchu beginning at 5:30 AM.
At 6:30 AM, we arrived at Macchu Picchu, which was by far the most crowded place we had been during the entirety of the Salkantay Trek. By the time we left (noon), it was even busier. William gave us a 1.5hr tour through of Macchu Picchu, then left us to explore the sacred ruin.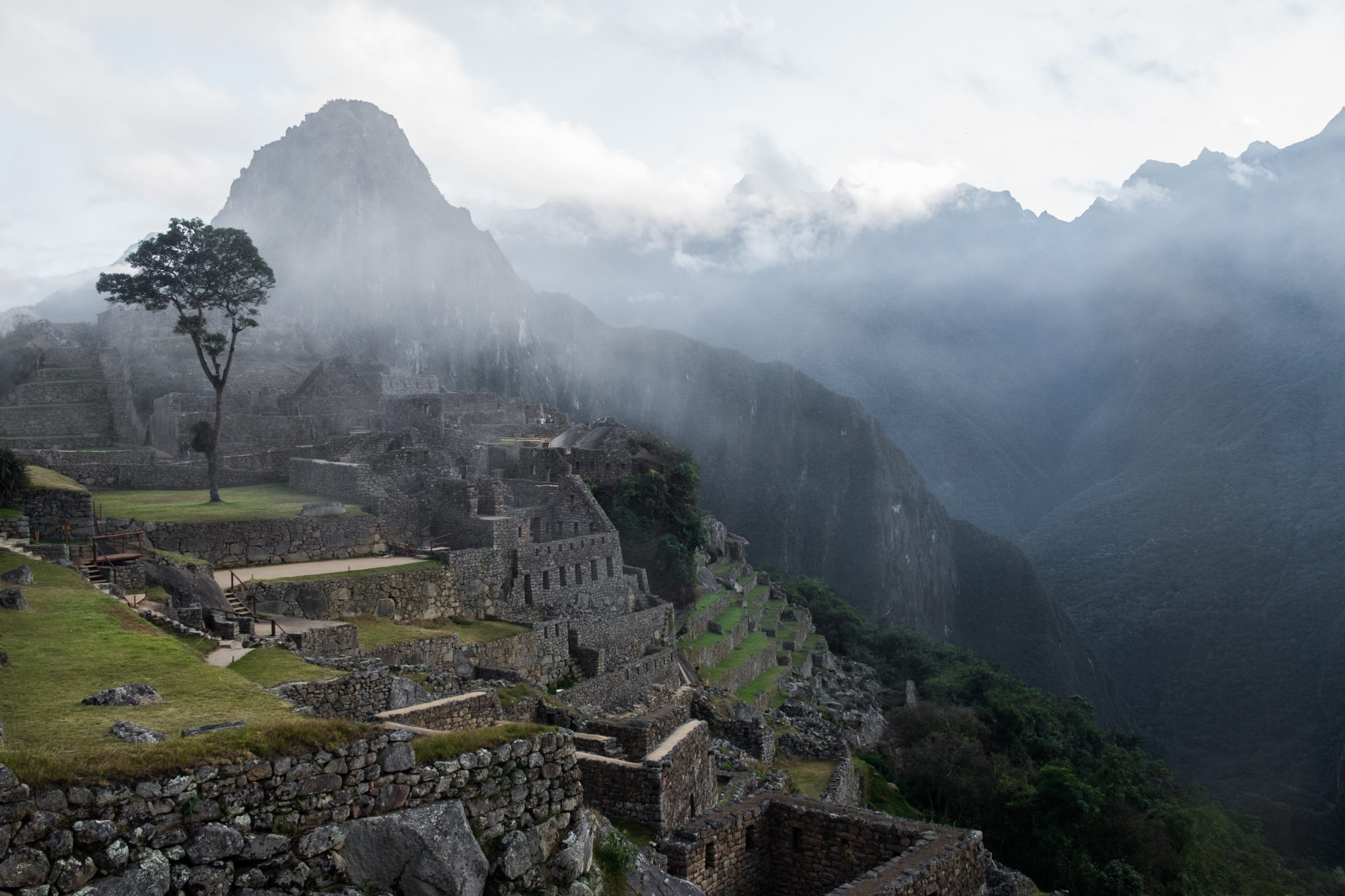 No washrooms and no eating allowed inside Macchu Picchu, so we exited and went back in at 9:15 AM to line up for our 10:00 AM climb Huyana Picchu Mountain. The ~360 meter climb was extremely steep and the incline increased as we ascended to the top of the mountain. "Physical challenge" would be an understatement. The trail was mostly tall, narrow stairs carved from rocks and some areas had ropes so that we could pull ourselves up. In addition to the strenuous ascent, I was still with fever so took it slow, drank lots of water and
The view from the top was exhilarating in a way that pictures and words can't even come close to capturing. Unfortunately, we were so high up from Macchu Picchu that you couldn't even see the ruin in the background. Later, we later realized that most people take their selfies at the Sun Gate.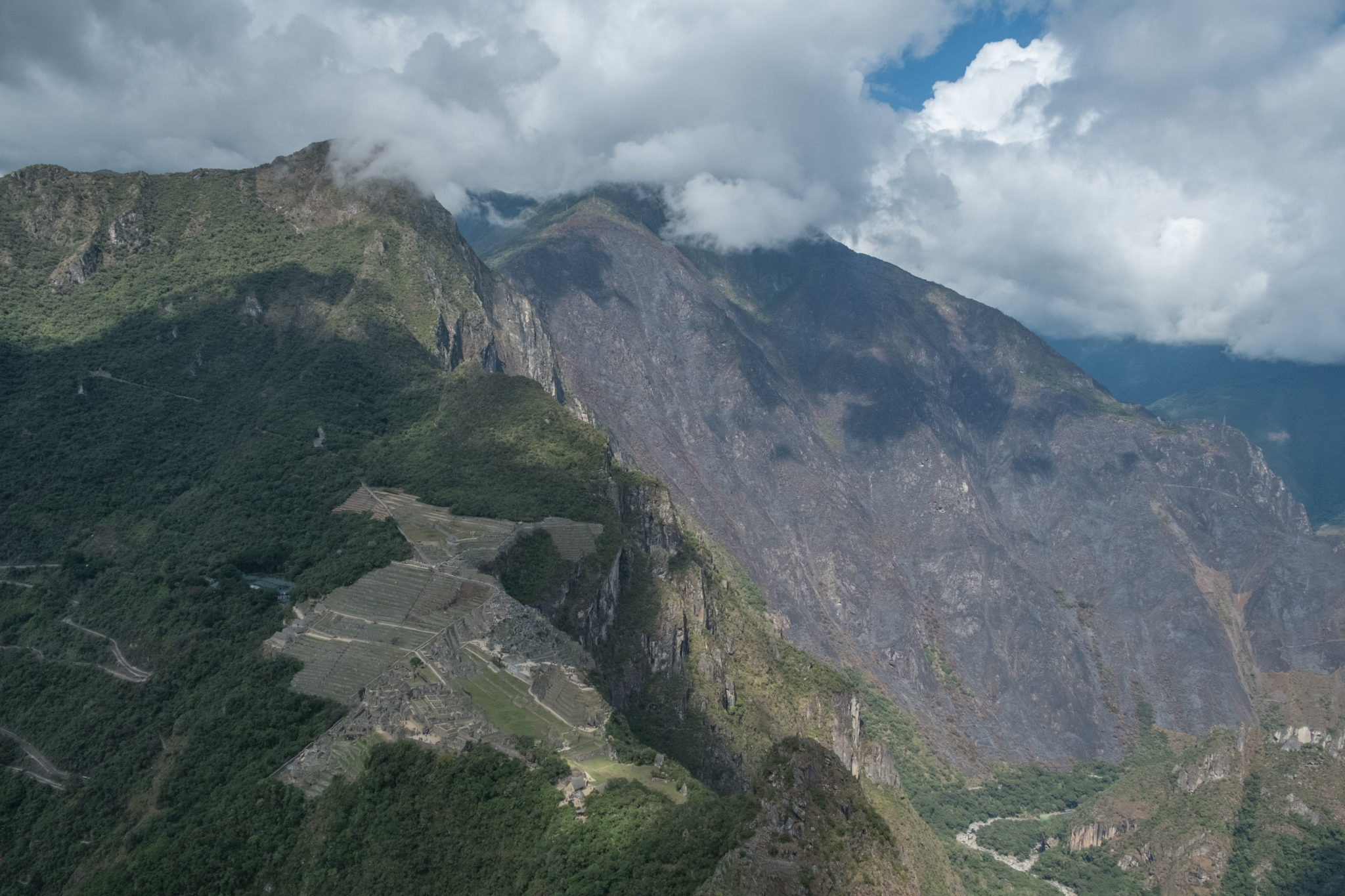 Aguas Calientes to Cusco
We left Macchu Picchu around 1:00 PM, purchased bus tickets back to Aguas Calientes for lunch. We avoided the touristy (and expensive) restaurants on the main streets and went for 8 SOL cheese empanadas. At around 4:20 PM, a Peru Rail train took us from Aguas Calientes to Ollyantaytambo. At Ollyantaytambo, we took a SAM Travel van back to Cusco and arrived back at our hostel around 9:00 PM.
All in all, I survived! Life. Goal. Achieved. My body felt unparalleled levels of soreness during and days after the Salkantay Trek, but nonetheless I finished it all thanks to tylenol, a little determination and kind encouragement from a couple friends and an experienced tour guide. Macchu Picchu was sight to behold but I truly believe that "it's the journey, not the destination", as my fondest memories of Peru were made on the trek there.