Bask in the light of the stars. Watch 3 movies back to back. Attend a premiere party. There's a lot to do at the Toronto International Film Festival and it's 10 days madness in the city. Luckily there are TIFF lounges and gifting suites, a sanctuary for a little bit of quiet and a lot of pampering.
I had the pleasure of attending two this year – the EGPR Essentials Lounge 8 and the beautyBoutique by Shoppers Drug Mart 8th Annual TIFF Suite.
EGPR Essentials Lounge 8
A gifting lounge exclusively for media and influencers, the one-day-only EGPR Essentials Lounge features eats (courtesy of Toben Food by Design), personalized fragrance and tweezer  engravings, beauty treatments,  and nearly enough swag through to next year's film fest.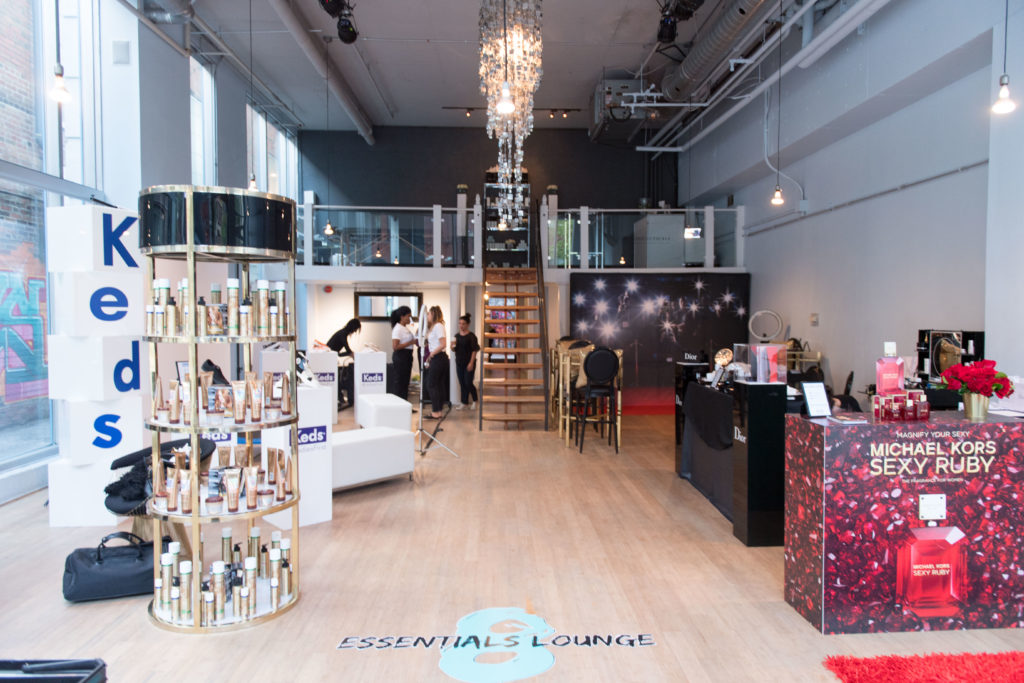 I arrived too late for the food (boo hoo) but took full advantage of the SkinCeuticals express facial featuring the glow-enhancing Micropeel Solution 30 and the award-winning C E Ferulic antioxidant serum, WINKS Eyelash Boutique eyelash extension applications (my first ever, so more on this later), L'Oreal hairstyling and Tweezerman nail touch ups.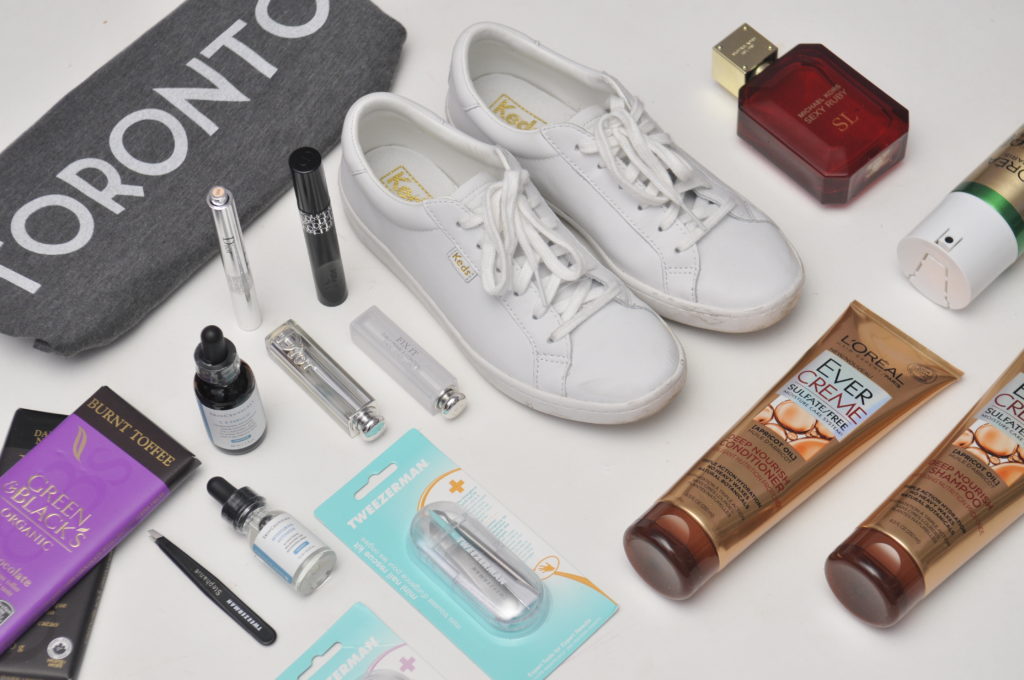 The EGPR #EssentialsLounge8 gift bag:
Dior Addict Lipstick ($35 CAD)
Dior Fix-It Concealer ($36 CAD)
Dior Flash Luminizer ($40 CAD)
Diorshow Pump 'N' Volume Mascara ($29.50 CAD)
Green and Black's organic chocolate bar x 2 ($4.25 CAD)
Keds Ace Sneaker ($80 CAD)
L'Oreal Elnett Creme ($10.99 CAD)
L'Oreal Elnett Satin Hairspray ($10.99 CAD)
L'Oreal Evercreme Renourishing Butter $12.96 CAD
L'Oreal Evercreme Deep Nourish Shampoo ($8.97 CAD)
L'Oreal Evercreme Deep Nourish Conditioner ($8.97 CAD)
Michael Kors Sexy Ruby Eau de Parfum ($135 CAD)
Michael Kors Sexy Ruby Eau de Parfum Rollerball ($34 CAD)
SkinCeuticals C E Ferulic ($170 CAD)
SkinCeuticals Retexturing Activator ($90 CAD)
Tuck Shop Trading Co. Toronto Tee ($48 CAD)
Tweezerman Mini Brow Rescue Kit ($38.50 CAD)
Tweezerman Mini Nail Rescue Kit ($30 CAD)
Tweezerman Stainless Steel Slant Tweezers ($29 CAD)
My top picks are the Green and Blacks Organic Chocolate, always and particularly in the burnt toffee flavour; the Tweezerman Stainless Steel Tweezers because you never know when you'll need to pluck a pesky stray hair; and the Tuck Shop Trading Co. "City of Neighbourhoods" Toronto Tee, which I've been wearing to sleep because it's super soft and makes me feel all sorts of pride for my city.
beautyBOUTIQUE by Shoppers Drug Mart 8th Annual TIFF Suite
The beautyBOUTIQUE by Shoppers Drug Mart TIFF Suite hosts editors, TV and radio personalities, influencers and editors on the 18th floor of the InterContinental Hotel. This TIFF lounge features a myriad of beauty services including red carpet makeup looks from stila, lash applications by DUO, manicures using Quo by ORLY by TIPS Nail Artist and Shoppers spokesperson Melissa Forrest (@manimelissa), skin finishing treatments from St. Tropez, and hairstyling courtesy of PHYTO.
The Shoppers Drug Mart TIFF Suite was opened Thursday, September 7th to Sunday, September 10th. To get ready for a busy Saturday, I went in for a PHYTO hair styling service. So enamoured by the view from the 18th floor I forgot to take photos of my new 'do… whoops.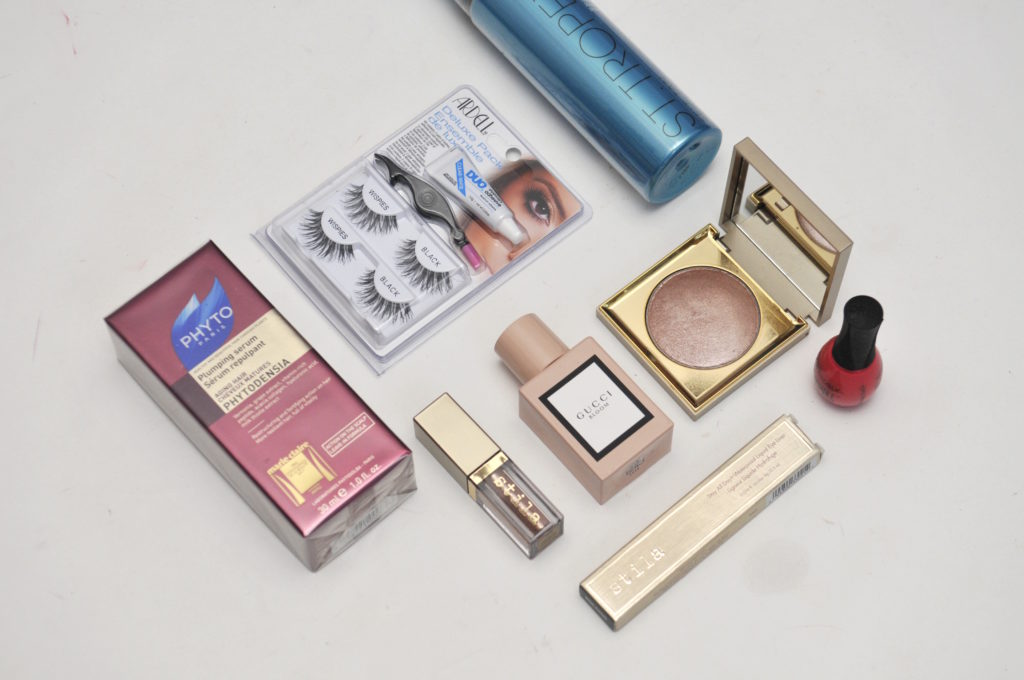 The beautyBOUTIQUE #SDMBeauTIFFul gift bag:
Stila Stay All Day Waterproof Liquid Eye Liner ($29 CAD)
Stila Heaven's Hue Highlighter in Kitten ($42 CAD)
Stila Magnificent Metals Glitter & Glow Liquid Eye Shadow in Kitten ($31 CAD)
St.Tropez Self Tan Classic Bronzing Mousse ($42 CAD)
St.Tropez Tan Applicator Mitt ($9 CAD)
PHYTO Phytodensia Serum ($48 CAD)
Ardell Wispie Deluxe Packs ($12.99 CAD)
Gucci Bloom Perfume (50 mL for $114 CAD)
I'm off to see two films this weekend – Downsizing and Meditation Park (yay!). With just 3 days left, all the TIFF craze seems to be winding down. But even so, I'm looking forward to what TIFF has to offer next year!